Exploring the Architectural Grandeur of Osaka Castle
Contents
Osaka Castle is an iconic landmark that dates back to the sixteenth century and is a glorious testament to traditional Japanese architecture. A perfect blend of strength and beauty, the castle's design is meant to impress and inspire awe with its immaculate white walls, stately towers, and sprawling gardens. Whether you want to soak in the views from the outside or explore the museum inside, Osaka Castle is a must-visit destination for your journey to Japan. So, pack your bags and get ready to discover the fascinating architecture and history of Osaka!
Architecture & Design of Osaka Castle | Quick Overview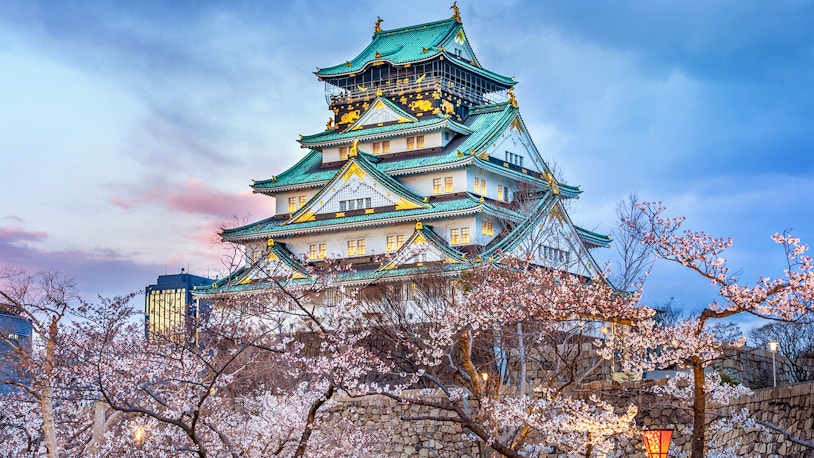 Official Name: Osaka-jo Castle
Location: 1-1 Osakajo, Chuo Ward, Osaka, Osaka Prefecture 540-0002, Japan. Find on maps
Founded: Originally built in 1583 and reconstructed in 1931
Area: The total area is approximately 60,000 square meters.
Architectural Style: Traditional Japanese Castle architecture, which is also known as Azuchi-Momoyama style.
Main Architects: The original castle was built by Toyotomi Hideyoshi, a famous Japanese warrior, and politician. The reconstruction work was led by architect Hajime Sato.
About Osaka Castle
Who Designed Osaka Castle?
Unveil the genius behind Osaka Castle, a masterpiece of Japanese architecture. Let's delve into the life, vision and history behind these influential figures who shaped one of Japan's most iconic landmarks.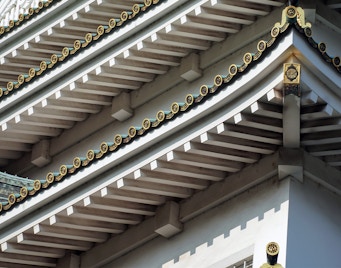 Toyotomi Hideyoshi
Toyotomi Hideyoshi, the original designer of Osaka Castle, was an influential daimyo of the 16th century. Though not a conventional architect, Hideyoshi demonstrated a clear vision for a fortress symbolizing power and prestige. His aspiration to create a majestic structure led to the foundation of Osaka Castle, thus making an indelible mark on Japan's architectural history.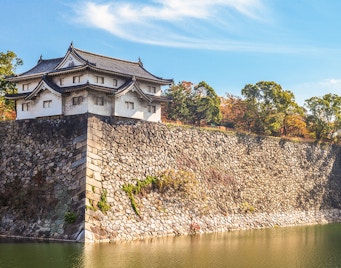 Todo Takatora
The reconstruction of the castle in the 17th century was under the supervision of Todo Takatora, a renowned military strategist. His experience in defensive strategies informed his architectural decisions, as he skillfully designed the stone walls and moats to transform Osaka Castle into an impregnable fortress. Takatora's contribution was instrumental in reinforcing the Castle's historic stature and grandeur.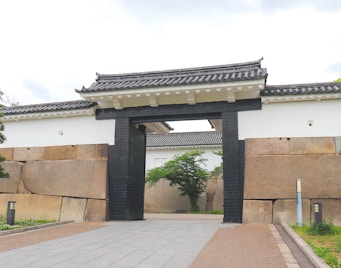 The Meiji Government
In the late 19th century, the Meiji Government took over the restoration of Osaka Castle. While introducing Western elements, they preserved the traditional Japanese architectural essence, resulting in a harmonious fusion of styles. This transformation was reflective of Japan's rapidly modernizing society while valuing its cultural roots.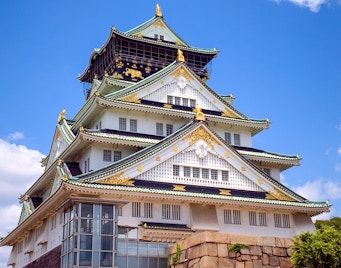 NHK Osaka
The 20th-century restoration by NHK Osaka also deserves recognition. Though not original designers, their meticulous work restored the castle's former glory and propelled it into the present, embodying both history and modernity. The Castle, in its current form, tells a rich story of architectural evolution over the centuries. It stands today as a testament to Japanese history, inviting visitors from across the globe to experience its timeless charm.
Stages of Construction
Welcome to a captivating journey through the stages of Osaka Castle's construction. This architectural masterpiece wasn't built in a day, nor a year. Spanning centuries, its creation story is as epic as the castle itself. Let's explore!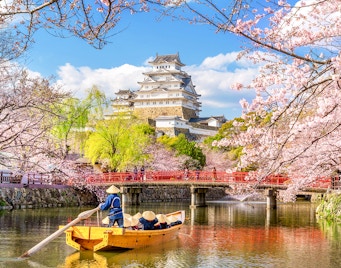 First Stage: Initial Construction (1583-1598)
The construction of Osaka Castle began in 1583 by Toyotomi Hideyoshi, who commissioned the castle to be built on the site of a temple destroyed in a previous war. The initial construction of the castle involved the formation of a 2.2 km moat around the castle, the creation of stone foundations, and the construction of the main tower. The project was enormous and required thousands of workers to complete.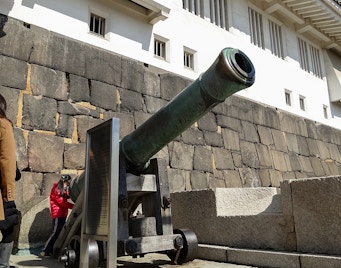 Second Stage: Rebuilding and Reinforcements (1614-1615)
After the death of Toyotomi Hideyoshi in 1598, Osaka Castle underwent extensive rebuilding and reinforcement work between 1614 and 1615 by Tokugawa Ieyasu, who won the Siege of Osaka. Most notably, the construction of earthworks was added to reinforce the perimeter and make it more difficult for enemies to infiltrate.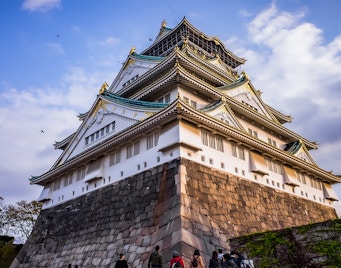 Third Stage: The Modernization and Renovations (1868-1997)
During the Meiji period in 1868, much of the original castle was destroyed, and the castle underwent significant changes, including the rebuilding of the castle tower into a more western-style appearance. Much of the castle underwent modernization throughout the twentieth century, including the restoration of various original buildings, and the creation of several museums and exhibition spaces. In 1997, a restoration program was initiated for the castle tower that took two years to complete.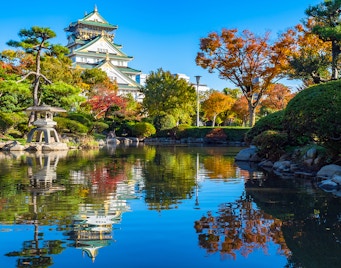 Fourth Stage: Present Day
Today, Osaka Castle stands as a grand symbol of the city's heritage and its architectural prowess. With its five-story main tower and impressive stone walls, it welcomes visitors from all over the world. Visitors can take a guided tour of the castle or explore the castle grounds and enjoy the beauty of its tranquil garden and overlook the 16-kilometer view of Osaka from its observation deck. 
Exterior of Osaka Castle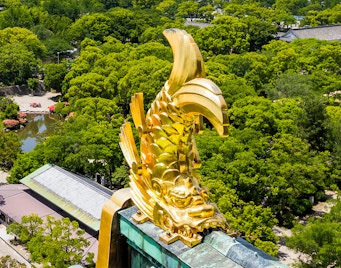 Architecture and Design
Osaka Castle's exterior is an epitome of traditional Japanese architecture with a five-story main tower that stands over 130 feet tall and bears a metallic gold ornament at the very top. The castle has exquisite whitewashed walls with dark sloping roofs, and tiered platforms, making it an iconic landmark of the city.
Moats and Turrets
The castle is surrounded by a 15-meter-deep moat, which is still functional and covers an area of over 60,000 square meters. There are turrets, also known as Yagura, located on each corner of the castle, each with a unique name and distinctive features. Visitors can climb stairs to reach the turrets, which offer a panoramic view of the surrounding landscape.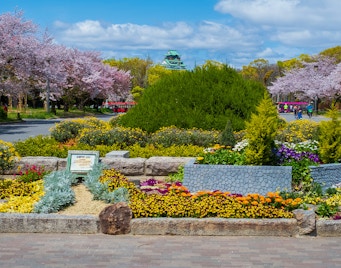 Gardens and Plazas
The exterior of the castle is complemented by expansive gardens and plazas. The Nishinomaru Garden is the most famous and popular garden with cherry blossoms in the spring, plum trees, and a tea house. The Otemon Plaza has a large square with seating areas and hosts a variety of cultural events throughout the year.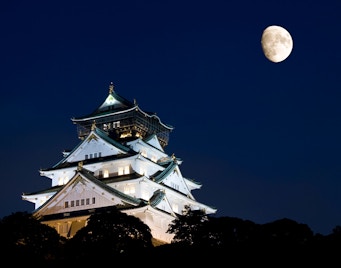 Night Illumination
Osaka Castle's exterior is lit with colorful lights at night, making it a dazzling sight to behold. The momentous with its golden ornaments gleams brightly against the night sky, casting its reflection in the surrounding moat. Night illumination has become quite popular, and the castle is a prime location for nighttime photography.
Interior of Osaka Castle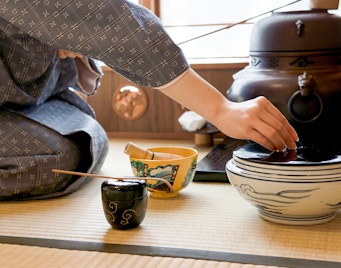 Main Tower Interior
The crown jewel of Osaka Castle is its Main Tower. Step inside, and you're welcomed by a grand interior housing eight floors of artifacts and exhibits. The design seamlessly blends traditional Japanese aesthetics with modern functionality. You'll find an elegant mix of warm wooden flooring, white walls, and soft ambient lighting, all narrating the castle's epic history.
Plan Your Visit to Osaka Castle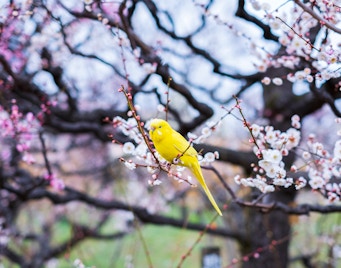 Nishinomaru Garden
Though not technically interior, the Nishinomaru Garden deserves a mention. This inner courtyard, once home to samurai warriors, now dazzles with over 600 cherry trees. In spring, it turns into a mesmerizing sea of pink blossoms - a sight for sore eyes!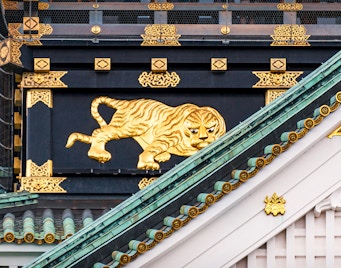 Artwork and Carvings
Osaka Castle's interior is also adorned with intricate carvings and paintings. Keep an eye out for gold leaf embellishments and fine depictions of tigers and leopards - symbols of power and authority in Japanese culture. These artistic touches, along with large folding screens featuring war scenes, infuse a rich cultural tapestry within the castle walls.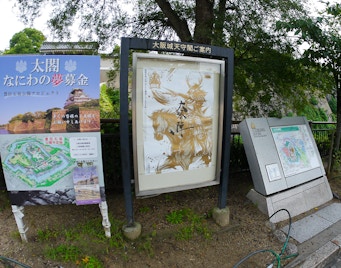 Osaka Castle Museum
Don't forget to explore the Castle Museum, home to diverse exhibits from various periods. You'll find detailed models of the castle and its floorplans, along with suits of armor and weapons. Here, history is not just told; it's shown in all its visual splendor, creating a time-travel experience like no other.
Inside Osaka Castle
Frequently Asked Questions About Osaka Castle Architecture
What style is Osaka Castle's architecture?
Osaka Castle's design is influenced by traditional Japanese architectural styles, particularly from the Azuchi-Momoyama period. Additionally, elements of Western architectural styles are present, reflecting the Meiji government's modernization efforts in the late 19th century. 
Who designed Osaka Castle?
The original design of Osaka Castle was envisioned by the powerful daimyo, Toyotomi Hideyoshi.
What is unique about Osaka Castle's architecture?
Its magnificent Main Tower, impressive stone walls, and moats stand out, blending tradition with strategic design make Osaka Castle very unique.
Has Osaka Castle been renovated?
Yes, it has been restored several times, with the latest major renovation in the 20th century.
What are the main elements of Osaka Castle's design?
Highlights include the Main Tower, Nishinomaru Garden, intricate carvings, and the Osaka Castle museum, which is full of historical artifacts.
What is the purpose of Osaka Castle's moats and stone walls?
They were strategically designed by Todo Takatora for defense against enemy invasions.
What materials were used in the construction of Osaka Castle?
Primarily stone and wood were used in the construction of Osaka Castle, with gold leaf accents for decorations.
Who restored the Castle in the 20th century?
Osaka Castle's restoration in the 20th century was overseen by the city of Osaka, and the restoration efforts were financially supported by NHK (Japan Broadcasting Corporation) Osaka and other entities.
Why is Osaka Castle a must-visit for architecture lovers?
Osaka Castle's harmonious blend of historic and modern design elements makes it an architectural marvel worth exploring and a must-visit for architecture lovers.