Experience Thrills Galore: Your Ultimate Guide to Universal Studios Japan Rides
Contents
Welcome to a world of excitement and wonder at Universal Studios Japan. Here, imagination takes flight, bringing your favorite films and characters to life in thrilling rides and immersive zones. From battling dinosaurs to joining magical adventures with Harry Potter, the park offers an unforgettable journey. So strap in, folks! Let's explore everything Universal Studios Japan has in store for you.
Why Visit Universal Studios Japan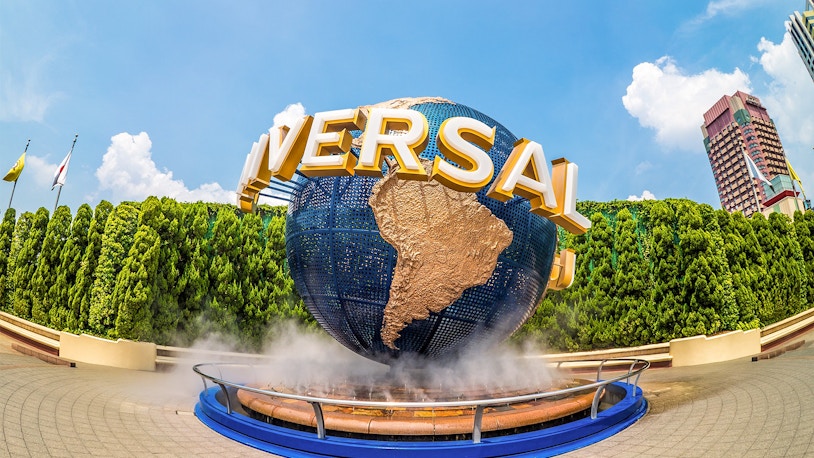 Unparalleled Adventure: At Universal Studios Japan, each corner is packed with excitement. Experience unique attractions and live shows that you simply won't find elsewhere.
Delightful for All Ages: Whether you're a thrill-seeking teen or a child-at-heart adult, there's something for everyone at this magical theme park.
Culinary Joyride: The park offers a vast range of scrumptious global cuisines. Your taste buds are in for a rollercoaster ride!
Cinematic Wonderland: Delve into the worlds of your favorite movies and TV shows - from Harry Potter to Jurassic Park.
Epic Events: Universal Studios Japan hosts amazing events throughout the year. Make sure to check the schedule for any seasonal spectaculars!
Easy Accessibility: Conveniently located in Osaka, the park is easily accessible by public transportation - no parking hassles!
Plan Your Visit to Universal Studios Japan
Book Your Universal Studios Japan Tickets
Combo: Umeda Sky Building + Universal Studios Japan Tickets
More details
Combo (Save 10%): Tickets to Harukas 300 + Universal Studios Japan 1-Day Pass
More details
Combo (Save 5%): Universal Studios Japan 1-Day Pass + Have Fun in Kansai Pass
More details
Universal Studios Japan Zones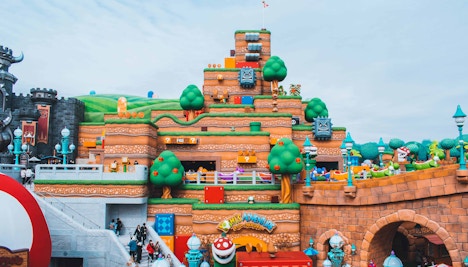 SUPER NINTENDO WORLD™
Experience your beloved video games come to life in the vibrant and exciting SUPER NINTENDO WORLD™. Unveiled in 2021, this zone merges the world of Nintendo into our reality with riveting attractions, immersive shopping experiences, and delightful eateries themed after iconic Nintendo games.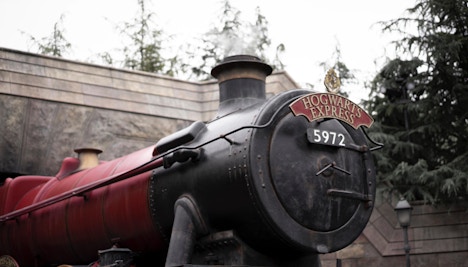 THE WIZARDING WORLD OF HARRY POTTER™
Welcome to THE WIZARDING WORLD OF HARRY POTTER™, a spellbinding corner of Universal Studios Japan where the magic of J.K. Rowling's creations comes alive. Whirl through Hogwarts Castle on the enchanting Harry Potter and the Forbidden Journey ride or embark on a journey with Hagrid's Hippogriff for a family-friendly adventure.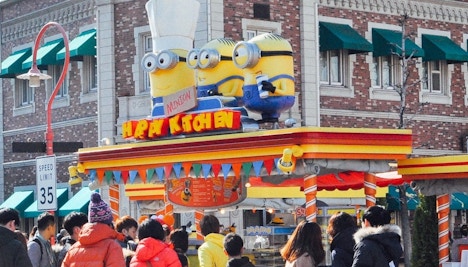 Minion Park
Immerse yourself in the playful world of the Minions at Minion Park! Partner up with Kevin, Bob, and Stuart in their quest for the ultimate villain. Grab Minion-inspired merchandise at the Minion Marketplace or try your luck at the Banana Cabana and Space Killer games to win a Fluffy Unicorn!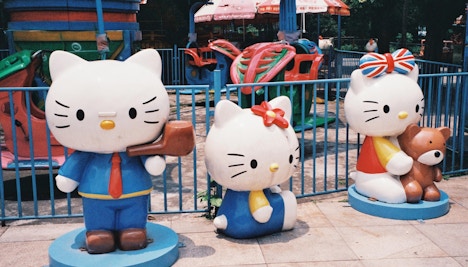 Universal Wonderland
Universal Wonderland is a dream come true for your little ones! Let them mingle with cherished characters such as Elmo, Snoopy, and Hello Kitty. From Abby's Magical Party to a flight above the clouds with Snoopy, this zone promises a day filled with unforgettable experiences!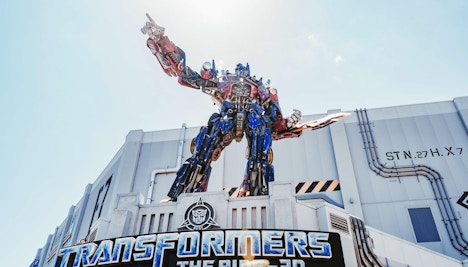 Hollywood
Experience the glitz and glamor of 1930s Hollywood! Stroll down the vibrant streets, join the festivities, and get up close with stories from blockbuster franchises like Transformers and Jurassic World during the Universal Spectacle Night Parade.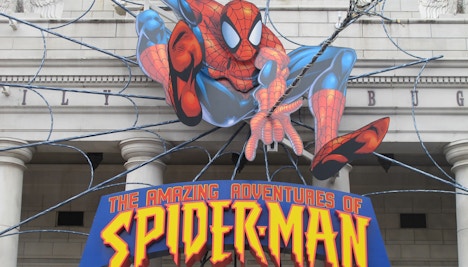 New York
Step into the shimmering lights of 1930s New York. Wander around iconic landmarks and immerse yourself in the scenes from famous movies. Battle evil with Spider-Man and Terminator, and revel in the fusion of cultures in this cosmopolitan corner of the park.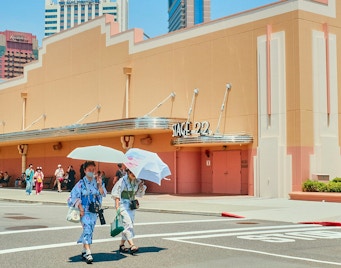 San Francisco
Feel the ocean breeze in the San Francisco zone, perfectly capturing the spirit of America's beloved port city. Meander through nostalgic recreations of Fisherman's Wharf and Chinatown, and experience the vibrant attractions and cozy cafés in the area.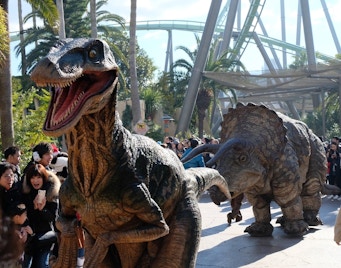 Jurassic Park
Embark on a journey back in time to the dinosaur age in the Jurassic Park zone. Brace yourself for close encounters with prehistoric creatures lurking amidst the lush greenery.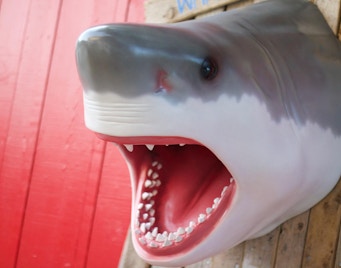 Amity Village
Experience the thrills of the classic film Jaws in the quaint Amity Village. Survive a suspense-filled boat ride with a man-eating shark, and enjoy a bite to eat at the themed eateries in the village - but stay alert for the shark!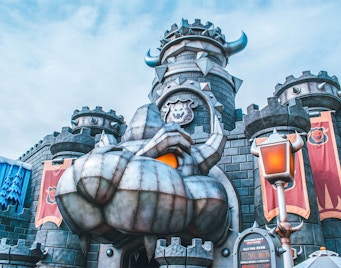 WaterWorld
Immerse yourself in the post-apocalyptic marine universe of WaterWorld. Witness characters fight for dry land through awe-inspiring stunts. Surrounded by a sea of sound effects, you'll feel like you've stepped into the heart of the ocean-bound conflict.
Universal Studios Japan Rides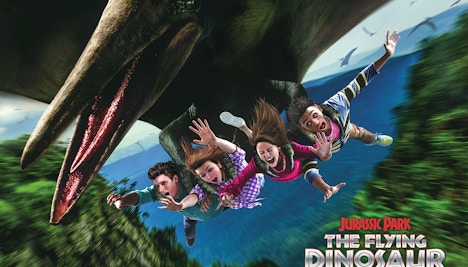 The Flying Dinosaur
Hold onto your seats as you take flight with a terrifying Pteranodon. Feel the adrenaline as you swoop, dive and twist at high speeds. The suspended roller coaster gives you an authentic feeling of what it might have been like to fly with dinosaurs.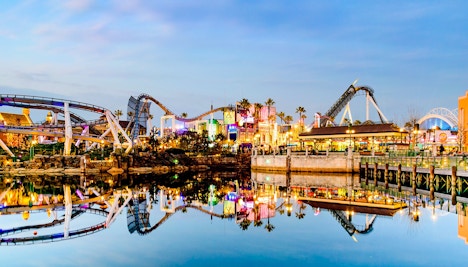 Hollywood Dream – The Ride
Cruise through some of Hollywood's biggest blockbusters on this thrilling roller coaster. Choose your own background music and watch the park lights sparkle beneath you on the backdrop ride. It's Hollywood glamor like you've never experienced before.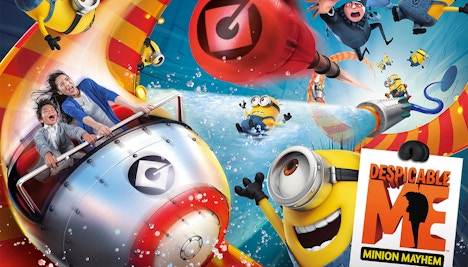 Despicable Me Minion Mayhem
Join Gru, his daughters, and the mischievous Minions on a heartwarming and hilarious 4D ride. Get ready for unexpected twists and turns, along with a healthy dose of Minion mischief. It's a fun-filled ride for the whole family.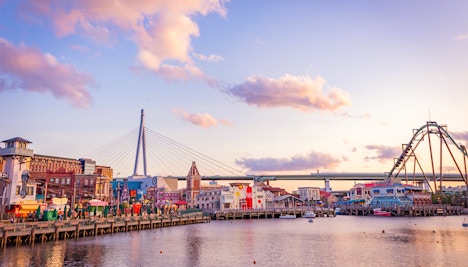 Jaws
Brace yourself as you come face-to-face with a gigantic Great White shark. Experience the iconic boat ride from the movie "Jaws", packed with suspense, surprise attacks, and a daring rescue. It's an adventure you won't soon forget!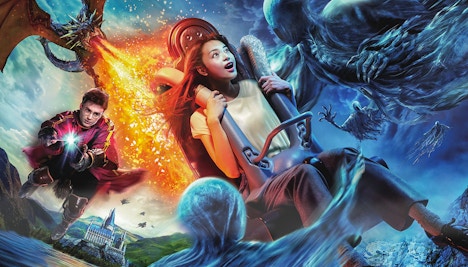 Harry Potter and the Forbidden Journey
Embark on a magical adventure through Hogwarts with Harry, Ron, and Hermione. Fight off dementors, dodge a dragon, and swoop over the Quidditch pitch in this breathtaking 4D ride. Get ready to experience magic like never before.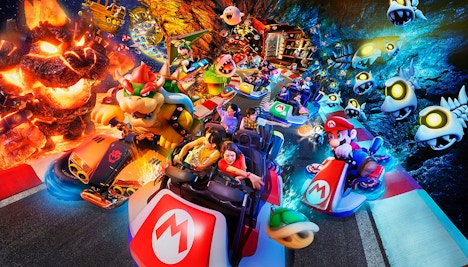 Mario Kart: Koopa's Challenge
Mario Kart: Koopa's Challenge is a ride that whisks visitors through the twists and turns of the Mushroom Kingdom at breakneck speed. You can also opt for a leisurely ride aboard Yoshi's Adventure, traversing through a vibrant, whimsical landscape on Yoshi's back. Additionally, immerse yourself in the fun with the Power-Up Band - an interactive accessory that enables you to amass virtual coins just like in the game!
Frequently Asked Questions About Universal Studios Japan Rides
Are the rides suitable for all ages?
While Universal Studios Japan offers attractions for all ages, some rides have height and age restrictions for safety purposes.
Does Universal Studios Japan offer express passes?
Yes, express passes are available for purchase to skip the regular queues at popular attractions.
Can I bring my own food into the park?
Unfortunately, outside food and drinks are not permitted, but the park offers a wide range of dining options.
What should I wear to the park?
Dress comfortably and wear shoes suitable for walking. Remember, some rides may get you wet!
Do they offer locker services?
Yes, lockers are available for rent throughout the park.
Can I take photos on the rides?
For safety reasons, taking photos or videos on the rides is not permitted.
Is there a specific time to visit for fewer crowds?
Visiting on weekdays and avoiding Japanese holidays can generally result in fewer crowds.
Are there facilities for guests with disabilities?
Yes, Universal Studios Japan offers services to accommodate guests with disabilities, but it's recommended to check their official website for detailed information.
Is there any show or parade that I shouldn't miss?
Don't miss the Universal Spectacle Night Parade – it features stunning projection mapping and floats from popular franchises, making it a must-see!