Unlocking the Wonders of Universal Studios Japan | Your Complete Guide to an Epic Theme Park Adventure
Contents
Quick Facts about Universal Studios Japan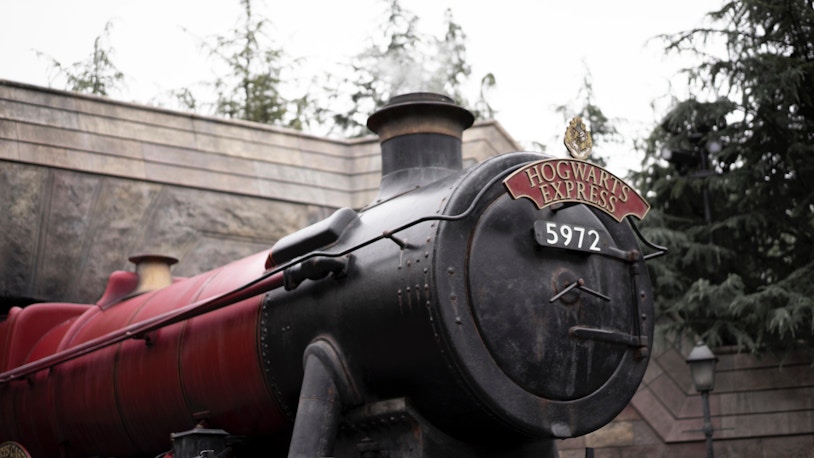 Official name: Universal Studios Japan
Location/Address: 2 Chome-1-33 Sakurajima, Konohana Ward, Osaka, 554-0031, Japan
Date of opening: March 31, 2001
Timings: Typically 9 AM to 9 PM (may vary; check website for specific dates)
Top Three Rides: The Flying Dinosaur, Hollywood Dream - The Ride, Harry Potter and the Forbidden Journey
Themed Areas: Wizarding World of Harry Potter, Universal Wonderland, Minion Park
Function: Theme park with thrilling attractions, immersive experiences, and entertainment for all ages
Book Your Universal Studios Japan Tickets
Combo: Umeda Sky Building + Universal Studios Japan Tickets
More details
Combo (Save 10%): Tickets to Harukas 300 + Universal Studios Japan 1-Day Pass
More details
Combo (Save 5%): Universal Studios Japan 1-Day Pass + Have Fun in Kansai Pass
More details
Why Visit Universal Studios Japan?
Immerse Yourself in Movie Magic: Experience the excitement of your favorite films brought to life, with dazzling attractions, rides and performances featuring iconic characters, storylines, and settings.
Thrilling Rides and Attractions: Feel the adrenaline rush on world-class roller coasters like the Flying Dinosaur and Hollywood Dream – The Ride.
The Wizarding World of Harry Potter: Walk through Hogsmeade Village, explore Hogwarts Castle, and discover magical experiences like Harry Potter and the Forbidden Journey and Flight of the Hippogriff.
Family-Friendly Entertainment: There is something for all ages, from amusing, interactive experiences like Despicable Me Minion Mayhem to adorable character meet-and-greets.
Diverse Dining Options: Savor international cuisines and themed dining experiences, like indulging in Butterbeer at the Three Broomsticks or snacking on famous movie treats like churros and popcorn.
Captivating Seasonal Events: Celebrate seasonal events like Halloween Horror Nights, Universal Christmas, and Universal Cool Japan.
Plan Your Visit to Universal Studios Japan
Universal Studios Japan Opening Hours
Universal Studios Japan Location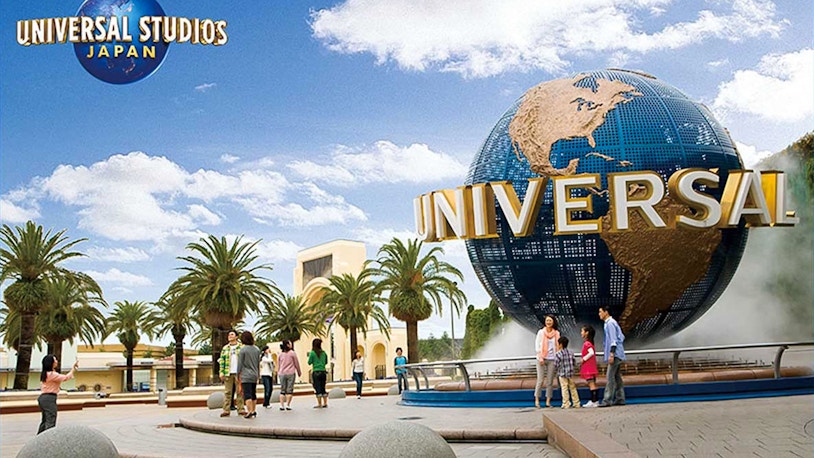 Universal Studios Japan's hours typically range from 9 AM to 9 PM, although these times may vary on specific dates.
Closed: The park is open year-round with exceptions for occasional closures; please check the official website for accurate timings. 
Best time to visit: The best time to visit Universal Studios Japan is during weekdays, outside of major holidays and school vacations, to avoid large crowds.
Additionally, visiting during the spring (March to May) and autumn (September to November) seasons generally offers pleasant weather and lower visitor numbers.
Plan Your Visit to Universal Studios Japan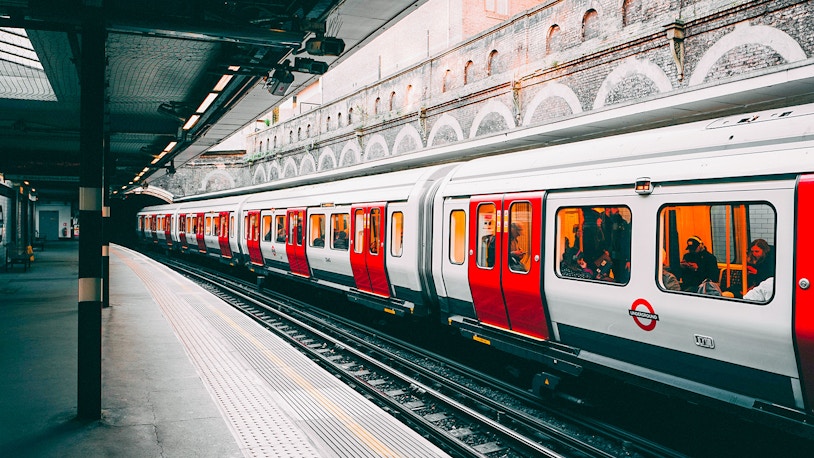 Address: Universal Studios Japan, 2-chōme-1-33 Sakurajima, Konohana Ward, Osaka, 554-0031, Japan. Find on Map
How to get there:
By Train - The most convenient way to reach Universal Studios Japan is by taking the train. From central Osaka, you can take the JR Yumesaki Line and alight at Universal City Station. The park is just a short walk from the station, easily accessible and well-signposted.
By Bus - Several bus routes operate to Universal Studios Japan. Buses from major cities in the Kansai region, such as Osaka and Kyoto, provide direct transportation to the park. Check the bus schedules and routes for a convenient and comfortable journey.
By Car - If you prefer to drive, you can take the Hanshin Expressway Route 16 or the Bayshore Route and follow the signs to Universal Studios Japan. The park offers parking facilities for visitors arriving by car, but it's advisable to check for parking availability and fees in advance.
Things To Do At Universal Studios Japan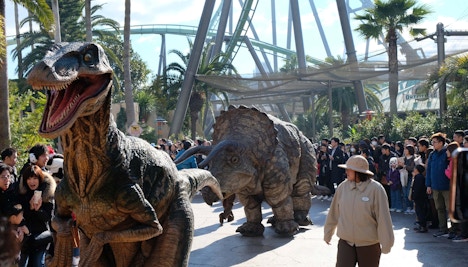 Experience The Flying Dinosaur
Get ready for an adrenaline rush on this jaw-dropping roller coaster that gives you the thrill of flying through the sky while being chased by a dinosaur. The Flying Dinosaur is a must-ride for adventure enthusiasts visiting Universal Studios Japan.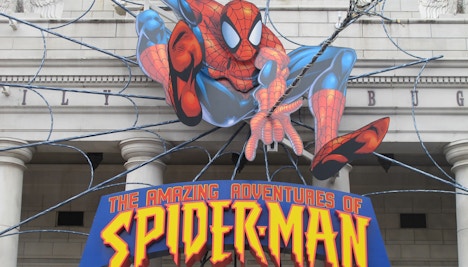 Journey Through the Amazing Adventures of Spider-Man - The Ride 4K3D
Put on your 3D glasses and embark on an exciting journey with Spider-Man as he battles villains in this incredible 4K3D attraction. This state-of-the-art ride is a must-do for all ages and Spider-Man fans.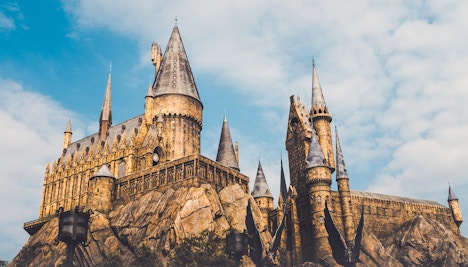 Marvel at the Magical Hogwarts Castle
Step into the enchanting world of Harry Potter as you explore the mesmerizing Hogwarts Castle in Universal Studios Japan. The castle features stunning visuals and magical experiences that will leave you in awe. Visitors can also ride the Hogwarts Express between Hogsmeade and Diagon Alley, and explore the village of Hogsmeade where you can purchase some magical souvenirs.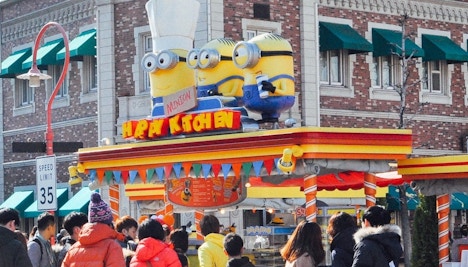 Join the Minion Mayhem
If you are a fan of the cute and mischievous Minions, you cannot miss the Despicable Me Minion Mayhem attraction. Enjoy this hilarious and heartwarming 4D journey where you'll be transformed into a Minion and embark on an exciting adventure.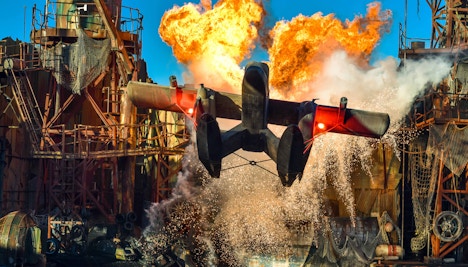 Explore the Wonders of Universal Wonderland
Universal Wonderland is an enchanting area of the park designed especially for younger children and their families. With attractions featuring beloved characters from Hello Kitty, Snoopy, and Sesame Street, there's something for everyone to enjoy.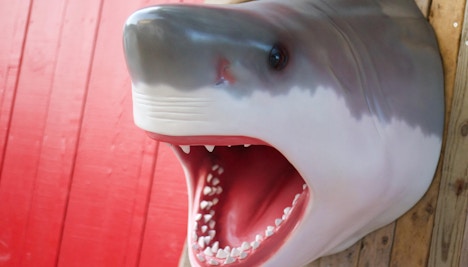 Dive Into the Exciting World of JAWS
Explore the setting of the popular film Jaws, as the Amity Village welcomes tourists once again to the legendary thriller location. Survive a mighty, ferocious man-eating shark on a seemingly peaceful boat ride.
Visiting Universal Studios Japan with Children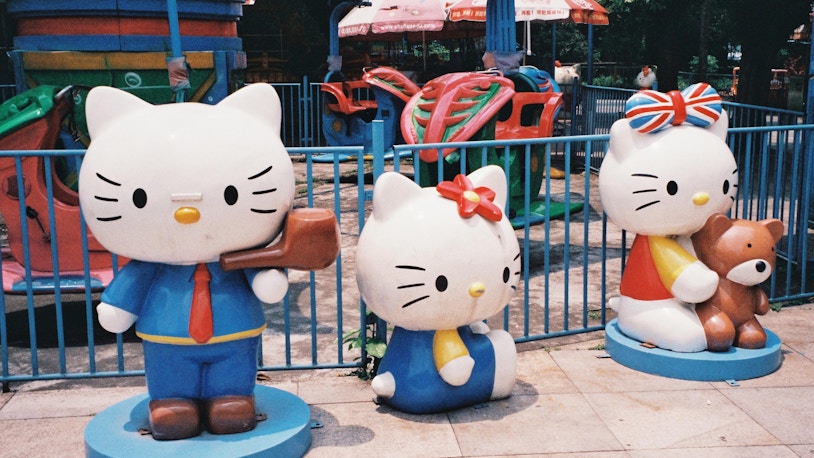 Take advantage of child swap service for rides with height restrictions.
Explore kid-friendly zones like Universal Wonderland and Minion Park.
Visit Sesame Street 4D Movie Magic for family entertainment.
The park offers various interactive shows that are designed to engage and entertain children, such as Shrek 4D and the Universal Monsters Live Rock and Roll Show.
Use designated quiet areas for rest breaks and diaper changes.
Rent strollers at park entrance for easy navigation.
Utilize family services room for nursing and baby care needs.
Universal Studios Japan provides numerous kid-friendly food options throughout the park. Whether your child is a picky eater or an adventurous foodie, there's something for everyone.
Enjoy character meet-and-greets to make lasting memories.
Additional Information about Universal Studios Japan
In this section, we will provide some essential information and tips for visitors to Universal Studios Japan, ensuring that everyone has a safe, enjoyable, and unforgettable experience at the theme park.
Restrictions
Accessibility
Lost and Found
Tips
Shopping
Many rides and attractions at Universal Studios Japan have specific age, weight, and height restrictions to ensure the safety and comfort of all guests.
These restrictions are clearly stated near the entrance of each ride and on the official Universal Studios Japan website.
It is crucial to adhere to these regulations for a safe and enjoyable experience.
Universal Studios Japan prioritizes the comfort and accessibility of all its guests, including those with disabilities.
The park offers a range of services to assist guests with mobility, visual, and hearing impairments, including wheelchair rentals and designated attraction seating.
Please refer to the official Universal Studios Japan website or inquire at guest services upon arrival for more information about available accommodations.
In case you misplace any personal belongings during your visit, head to the Lost and Found Center located near the park entrance.
It's essential to report lost items as soon as possible for the best chances of recovery.
To ensure the safety and well-being of all guests, Universal Studios Japan has implemented certain safety and health guidelines.
Make sure to follow park rules, such as supervision of children, observing personal health precautions, and adhering to ride instructions and restrictions.
During warmer months, stay hydrated and wear sunscreen to prevent discomfort and sunburn.
One of the highlights of visiting Universal Studios Japan is the fantastic selection of unique souvenirs and merchandise.
Make sure to allocate some time during your visit to browse the themed shops throughout the park, such as Ollivanders Wand Shop in the Wizarding World of Harry Potter or the Minion Mart at Minion Park.
Bring home a piece of the magic to remind you of your unforgettable experience at Universal Studios Japan!
Frequently Asked Questions About Universal Studios Japan
Q. How long should I spend at Universal Studios Japan?
Ideally, allocate a full day to experience the various rides, attractions, and shows at Universal Studios Japan.
Q. Is it worth visiting Universal Studios Japan?
Absolutely! Universal Studios Japan offers a magical experience for all ages with thrilling rides, movie magic, and unforgettable memories.
Q. What are the famous rides and attractions inside Universal Studios Japan?
The Wizarding World of Harry Potter, Jurassic Park - The Ride, and The Flying Dinosaur are among the famous rides and attractions inside Universal Studios Japan.
Q. When did Universal Studios Japan open?
Universal Studios Japan opened on March 31, 2001.
Q. When should I visit Universal Studios Japan?
The best time to visit Universal Studios Japan is on a non-holiday weekday from October to January & June to July. The park is open from 9 AM every day of the week to about 9 PM. 
Q. Can I bring my own food into the park?
Outside food and drinks are not allowed, but the park offers a variety of dining options from snacks to sit-down meals.
Q. Are there any age restrictions for younger children?
While there are height and age restrictions for certain attractions, Universal Studios Japan also offers kid-friendly zones and experiences catered to younger guests.
Q. Can I purchase tickets in advance online?
Yes, you can buy tickets and Express Passes online here, which is recommended to save time and ensure a smooth entry into the park.
Q. Are there lockers for storing personal belongings?
Yes, lockers are available for rent near the entrance and throughout the park for storing bags and other personal items.
Q. Can I re-enter the park if I leave during the day?
Universal Studios Japan allows re-entry for visitors who have already entered the park on the same day. When you exit the park, make sure to keep your ticket or pass with you. Upon your return, present your ticket or pass at the entrance gates for re-entry.
Q. What's the best way to get to Universal Studios Japan from central Osaka?
The easiest way to get to the park is via public transportation, specifically by taking the JR Yumesaki Line to the Universal City Station.